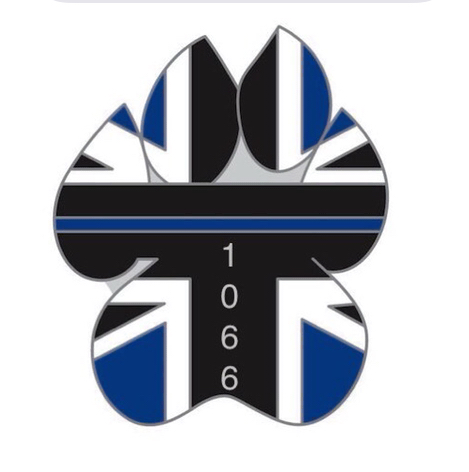 The Tour De Aky
The Tour De Aky was formed in memory of Mick "Aky"  Atkinson a Police dog handler for North Yorkshire PC1066, who sadly took his own life in October 2018 after losing his battle with mental health, a battle which even the closest to him didn't know he was facing.
AKY was a larger than life character who was loved and respected by so many, A proud "Leeds Lad" who loved Leeds United and Leeds Rhinos, it was joked that he was more famous at Headingley than some of the player such the man he was.
The Tour De Aky is a cycle ride which covers 106.6miles (a nod to his collar number)
Over the past 3 years the ride has taken in a number of location of meaning to Aky, work places, passions such as Elland road and Headingley  and family homes.
The event is to challenge people in cycling such a distance but also promote mental health, and encourage people to talk, we use a slogan of ITS OK NOT TO BE OK.
We have a wide variety of cyclists from the ones who have cycled only 10miles to the almost professional ones that think nothing of doing 100miles on a bike but the event is about support each other and talking not a race.
On top of trying to promote mental health awareness we also raise money for our chosen charities which this year are MIND, YORKSHIRE AIR AMBULANCE and ANDYS MAN CLUB.
This year the event is on SATURDAY 16th JULY 2021 leaving Muston Village (east Coast) and heading into York before returning back to  Muston.
The admission is £45 and for this you get a unique Tour De Aky cycle top, insurance for the ride, fed and watered and support throughout the ride.
We have a Facebook page called The Tour De Aky and also a Strava group again Tour De Aky which everyone is welcome to join/ view for details.
Please email [email protected] for further details
Details:

The Tour De Aky was formed in memory of Mick "Aky" Atkinson a Police dog handler for North Yorkshire PC1066, who sadly took his own life in October 2018 after losing his battle with mental health, a battle which even the closest to him didn't know he was facing.
AKY was a larger than life character who was loved and respected by so many, A proud "Leeds Lad" who loved Leeds United and Leeds Rhinos, it was joked that he was more famous at Headingley than some of the player such the man he was.
The Tour De Aky is a cycle ride which covers 106.6miles (a nod to his collar number)
Over the past 3 years the ride has taken in a number of location of meaning to Aky, work places, passions such as Elland road and Headingley and family homes.
The event is to challenge people in cycling such a distance but also promote mental health, and encourage people to talk, we use a slogan of ITS OK NOT TO BE OK.
We have a wide variety of cyclists from the ones who have cycled only 10miles to the almost professional ones that think nothing of doing 100miles on a bike but the event is about support each other and talking not a race.

On top of trying to promote mental health awareness we also raise money for our chosen charities which this year are MIND, YORKSHIRE AIR AMBULANCE and ANDYS MAN CLUB.

This year the event is on SATURDAY 16th JULY 2021 leaving Muston Village (east Coast) and heading into York before returning back to Muston.
The admission is £45 and for this you get a unique Tour De Aky cycle top, insurance for the ride, fed and watered and support throughout the ride.
We have a Facebook page called The Tour De Aky and also a Strava group again Tour De Aky which everyone is welcome to join/ view for details